The Importance of collecting emails for your immigration law firm
Email marketing has been around for a while and will be with us for the foreseeable future. It is still very effective and yet many businesses don't utilize this method at all.
If you are thinking about email marketing it means you understand the importance of collecting emails. If a client visited your website and didn't call you because they were still in the research phase, he probably went away and hired someone else when he was ready.
This means that by not staying in touch with potential leads, you are losing money.
Let's think about the typical process we all go through when looking to buy something or hire someone for help. We go online, perform a search, and research various options before committing to take action. If no one stood out in your research, you will probably settle for any of the options you found.
Now if you were the first website your lead visited, how can you remind them you exist, so they can consider you when they are ready to move forward?
This is where email marketing comes in as a powerful marketing tool. If you are driving traffic to your website, you need to have a backup plan for the people who leave because it wasn't the right time. By offering them value, like a free PDF download, in exchange for their email you are accomplishing 3 things:
You are positioning your firm as an expert by offering free information that will help them solve their problem.
You have a way to stay in touch by collecting their email.
You have a database of leads that you can now plan to convert into clients.
1. Position your firm as an expert
People are looking for an expert to help them solve their problem. Immigration is a very important issue because families are separated and people are looking for a better life. This is why it is important to generate trust and show your authority. 
If you offer free information or tips that can help, your leads will see that you know what you are talking about. You are helping in educating them so now they know a little more about your service and will be using that new-found knowledge in their future research. Being present in their minds as a base of comparison with your competitors is not a bad place to be.
Just being present in their minds at all is the goal of email marketing.
2. You have a way to stay in touch
Now that you have helped your leads with valuable information, they are further along the way in their purchasing cycle. But what if this wasn't a priority at the time and life gets in the way. It could be days and even months before they are ready to hire someone for help. At this point they have forgotten all about you and will most likely start their search over. Only this time, they don't visit your website and you lost that client.
But since you collected their email previously, you have a way to reach out and remind them that you exist. So in this case, you don't rely on them coming to you, you can go to them.
3. Convert your leads into clients
This is where you leverage the true power of email marketing and you start seeing a massive return on your investment.
Since you already have built a huge list of emails, that means you have a database of leads you can now reach out to with sales campaigns. The best part of this is that you can automate everything from the first touch to the point when the lead becomes a client.
You can create a sequence of emails that are delivered every x number of days, or weekly and even monthly. The goals of this is to stay in their minds, offer value and prompt them to take action now and then.
With a good email marketing campaign, you can keep the communication going with your leads and always reach out to them when you need them.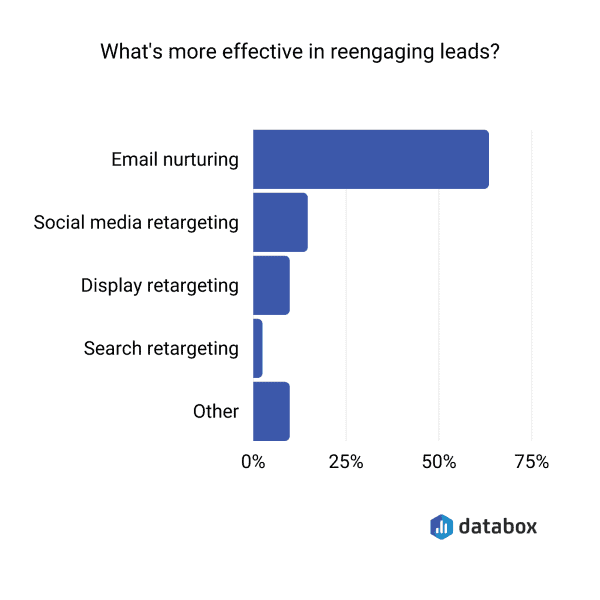 The above chart shows additional data compiled from a research conducted by Databox(Click here to see the research article). It confirms the effectiveness an email nurturing campaign can have on your bottom line in comparison with other methods. 
Ultimately, you can sell your services and fill your calendar with appointments every day even while you sleep.
At Ravecode Solutions, we have built a system around this method specifically for immigration law firms and we call it the Sales Automator. It is part of our signature system the Law Firm Success Formula which positions your law firm to get a predictable amount of new leads each month.